F-class DM Flexible Laminates
(Hits:18)
F-DM Non-saturation Flexible Laminates
Polyester film with Non-woven fabric
In accordance with JB/T4060-1991
Description: Class F DM Non-saturation also called F-DM70; it is a two-layer flexible composite material, produced by using F-class adhesive(heat-resistant epoxy resin) to adhere the high-melt-point polyester film( 6020 transparent polyester film or 6021 milky polyester film) (Mylar) with non-woven polyester fabric (Dacron). The structure is Dacron +(adhesive)+ Mylar
Advantages: It has excellent electrical, mechanical, and impregnating properties. With very good cohesiveness and compatibility. It also has excellent tensile strength, reliable heat resistance and good voltage characteristic.
Applications: The Class F 6633DM is suitable for slot liner, slot closure, phase and turn-to-turn insulation in electrical motors. Extensively used as interlayer insulation in transformers and other electrical appliances.
Test and stock:
1. standard:GB/T5591.31-2008 and IEC626-2
2.Storange:≦40℃,dry,clean in warehouse.Avoid fire ,heat and sunlight.
3.Storage life:12 months.still effctive if qualified in retest after 12 months.
Features:
• Thermal class: F(155℃)
• Thickness: 0.08-0.41mm
• Standard width: 1000mm (or according to customers' requirements)
• Color: white, green, blue , pink and according to customers' requirements
• Form: roll, sheet, and strip
• Adhesive property: 180℃±2℃, 10 minutes no delamination, blister, or adhesive flow.
• Superiority: Reasonable price, high quality, prompt delivery, and excellent service.
mso-spacerun:'yes';font-family:Calibri;font-size:10.5000pt;mso-font-kerning:1.0000pt;" >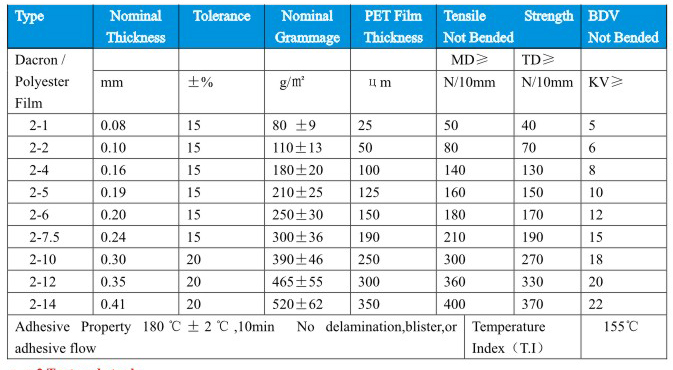 Item No.:6633F-DM