6521 Polyester Film with Fish Paper
(Hits:24)
6520 /6521 Polyester film/Fish paper Flexible Composite Material
Polyester film with Fish paper
According to GB/T5591.3.1-2008 IEC626-2
Description:6520/6521 polyester film composite electrical insulation paper is a two-layer flexible laminate. It is produced by using B-class adhesive(heat-resistant epoxy resin) to adhere fish paper(Made of 100% wood pulp) with polyester film.
Advantages: This product has excellent mechanical strength, electric strength, reliable heat resistance and good impregnation property. It also has excellent tensile strength, acid-free and good voltage characteristic. Providing slitting service.
Applications: It is used in small motor, low-voltage motor, generator, and slot, phase, turn to turn and liner insulation in Class E-B motor and electrical appliances. And other electrical insulation with temperature requirement not exceeding 130℃.
Features:
• Thermal class: B(130℃)
• Thickness: 0.12-0.60mm
• Standard width: 1000mm (or according to customers' requirements)
• Color: green, blue, and brown
• Form: roll, sheet, and strip
• Adhesive property: 155℃±2℃, 10 minutes no delamination, blister, or adhesive flow.
• Superiority: competitive price, high quality, prompt delivery, and excellent service.
Storage:≤40℃, dry, clean in warehouse. Avoid fire,heat and sunlight.
Storage life:12 months.Still effective if qualified in retest after 12 months.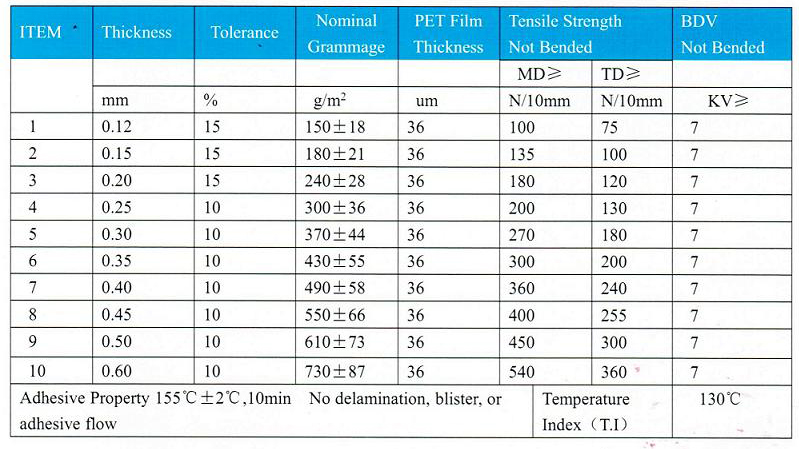 Item No.:6521.0