NHN Flexible Laminates
(Hits:14)
NKN/NHN Flexible Laminates
Polyimide film with DuPont Nomex®
In accordance with GB/T5591.3.1-2008 and IEC626-2
Description: The NKN/NHN Flexible Laminate is a three-layer flexible composite material, produced by using C-class adhesive(heat-resistant epoxy resin) to adhere the polyimide film (Kapton) with hot rolling DuPont( a kind of High quality environmental non-woven fabric) Nomex® (N) on both sides.
Advantages: The NKN/NHN is one of the most exclusive electric insulation materials at present. It has excellent heat-resistant, dielectrical property, and superior mechanical properties. It also has excellent tensile strength, high edge tear resistance and good voltage characteristic. It was designed for automatic insertion machine.
Applications: The NKN/NHN composite material is suitable for slot, liner, phase, and turn-to-turn insulation in H and C-class electrical motors. It can be used as interlayer insulation in high voltage transformers and other electrical appliances.
Features:
• Thermal class: H(180℃)
• Thickness: 0.13-0.35mm
• Standard width: 1000mm (or according to customers' requirements)
• Color: orange, green, blue , and according to customers' requirements
• Form: roll, sheet, and strip
• Adhesive property: 200℃±2℃, 10 minutes no delamination, blister, or adhesive flow.
• Superiority: Reasonable price, high quality, prompt delivery, and excellent service.
Storage:≤40℃,dry,clean in warehouse.Avoid fire,heat and sunlight.
Storage life:12 months.Still effective if qualified in retest after 12 months.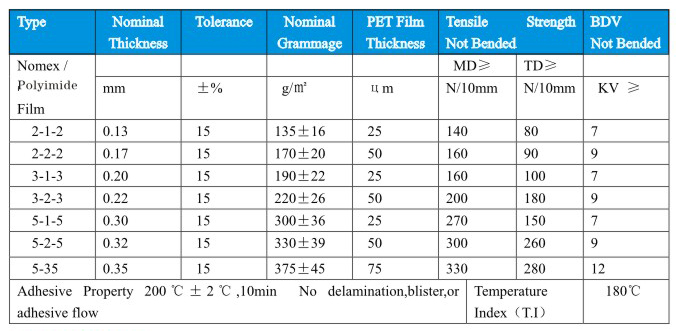 Item No.:NHN
NHN / NKN is a triplex laminates with polyimide film covered on both sides with Nomex paper.
It is a Class H (180℃)insulation material .
The width of NMN we can make from 6mm to 905mm,thickness from 0.13mm-0.50mm.
NHN is used as insulation for transforming layers and electric motors (between transforming layers (slot insulations , phase insulations, interlayer insulations)
| | | |
| --- | --- | --- |
| thickness (mm) | | (g/㎡) |
| 0.13 | 2-1-2 | 135±16 |
| 0.17 | 2-2-2 | 170±20 |
| 0.20 | 2-4-2 | 190±22 |
| 0.30 | 2-7.5-2 | 300±36 |
| 0.35 | 2-10-2 | 375±45 |
| 0.20 | 3-1-3 | 190±22 |
| 0.22 | 3-2-3 | 220±26 |
| 0.30 | 5-1-5 | 300±36 |
| 0.32 | 5-2-5 | 330±39 |
| 0.35 | 5-35 | 375±45 |