6020 Transparant Film
(Hits:33)
6020 Polyester Film
Description: 6020 polyester film is bi-axially oriented polyethylene terphthalate (PET) film. 6020 is a transparent film. It is Class E(120℃) insulation.
Advantages: It has excellent electrical, mechanical, and impregnating properties. It also has excellent tensile strength, reliable heat resistance and good voltage characteristic.
Application: It is suitable for electrical insulation, such as slot insulation, inter-phase insulation and liner insulation in electric motor, wrapping insulation for coils and cables, as well as producing insulating flexible composite material.
Features:
• Thermal class: E (120℃)
• Thickness: 0.023-0.35mm (Most frequently used thickness: 0.038mm-0.10mm)
• Standard width: 1000mm (or according to customers' requirements)
• Color: transparent and milky white
• Form: roll, sheet, and strip
• Superiority: Reasonable prices, high quality, prompt delivery, and excellent service.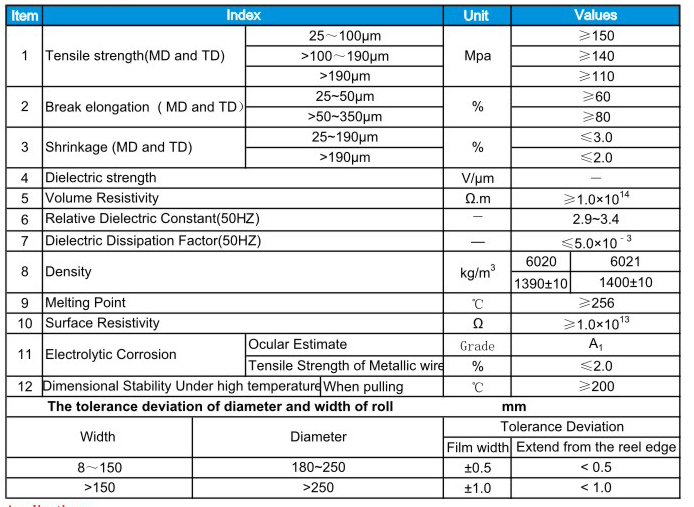 Item No.:6020.0
6021/6021 insulation mylar PET polyester film is biaxially oriented polyethelene terephthalate (PET) film.
It is a Class E (120℃)insulation material .
It has two colors: transparent and milky white ,the thickness of polyester film with milky white color ,we can produce 0.15mm,0.188mm,0.25mm,0.30mm,0.35mm
| | |
| --- | --- |
| thicknerss(mm) | (g/㎡) |
| 0.025 | 35 |
| 0.036 | 50 |
| 0.05 | 70 |
| 0.075 | 105 |
| 0.1 | 140 |
| 0.125 | 175 |
| 0.15 | 210 |
| 0.188 | 265 |
| 0.2 | 282 |
| 0.25 | 350 |
| 0.3 | 416 |
| 0.35 | 480 |