F-class-Prepreg-DMD-Flexible-Laminates
(Hits:29)
Epoxy-resin Prepreg DMD Flexible Laminates
Polyester film with Non-woven fabric
In accordance with GB/T5591.3.1-2008
Description: Epoxy-resin Prepreg DMD is a three-layer flexible material, produced by impregnating F-class DMD combined material into heat-resistant epoxy resin, and then cured to B-stage. DMD-P is for short.
Advantage: It has comparatively good heat-resistance, sound dielectrically property and mechanical property. It is compatible with most gels, resins and varnishes. When cured to C-stage in moderate temperature, it will firmly adhere on the surfaces of copper or aluminum metals, without producing any small molecular volatiles.
Application:The DMD-P is suitable for layer insulation of copper foil or aluminums foil on low-tension coils of dry-type transformers as well as suitable for transformer barrier tube, slot and turn-to-turn insulation of B-class and F-class motors and electrical appliances.
Test and stock:
1. standard:GB/T5591.31-2008 and IEC626-2
2.Storange:≦40℃,dry,clean in warehouse.Avoid fire ,heat and sunlight.
3.Storage life:12 months.still effctive if qualified in retest after 12 months.
Features:
• Thermal class: F(155℃)
• Thickness: 0.13-0.50mm
• Standard width: 1000mm (or according to customers' requirements)
• Color: white, green, blue , pink and according to customers' requirements
• Form: roll, sheet, and strip
• Adhesive property: 180℃±2℃, 10 minutes no delamination, blister, or adhesive flow.
• Certification: UL products certification.
• Superiority: Reasonable price, high quality, prompt delivery, and excellent service.
Storage:≤30℃,dry,clean in warehouse.Avoid fire,heat and sunlight.
Storage llife:6 months.Still effective if qualified in retest after 6 months.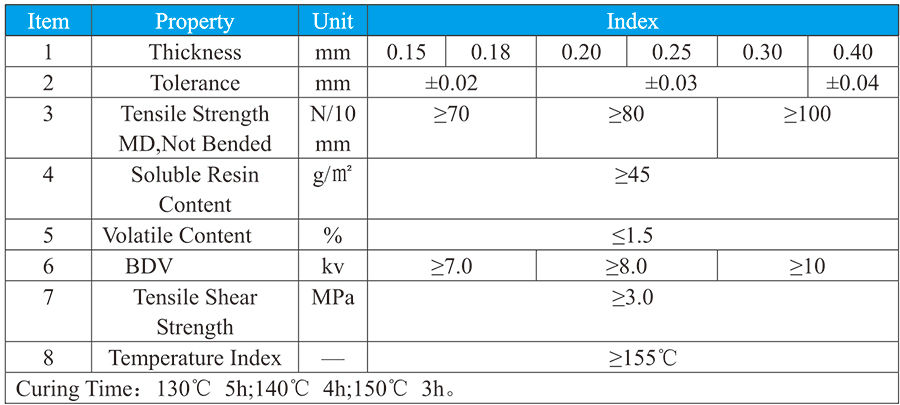 Item No.:
DMD(Dacron-mylar -dacron) is a triplex laminates with polyester film and non-woven polyester felt covered with a layer of impregnated fleece on both sides .It has a high dielectric and high mechanical strength. It is tough and flexible. This allows for easy insertion into the slot and the spreading effect ensures a sturdy grip.it can be used as prepreg.
It is a Class F (155℃)insulation material .
The width of DMD we can make from 6mm to 1500mm,thickness from 0.11mm-0.90mm.
The color of DMD in Haotai we can make: White , red ,green,blue,deep red,pink ( or customized)
| | | |
| --- | --- | --- |
| thickness (mm) | | (g/㎡) |
| 0.13 | 1.5-1.5-1.5 | 165±20 |
| 0.18 | 2-2-2 | 200±24 |
| 0.2 | 2-2-2 | 200±24 |
| 0.23 | 2-4-2 | 238±29 |
| 0.25 | 2-5-2 | 306±37 |
| 0.3 | 2-6-2 | 345±41 |
| 0.35 | 2-7.5-2 | 398±48 |
| 0.4 | 2-10-2 | 485±58 |
| 0.5 | 2-14-2 | 625±75 |