Insulation-Presspaper
(Hits:42)
Presspaper
Description: The Insulation Transformer Pressboard is manufactured from 100% high quality sulfated insulating wood pulp without sizing or used fillers. This paper is highly refined and cleaned to ensure uniform thickness and formation.
Advantages: It has excellent electrical, mechanical, and impregnating properties. It also has excellent tensile strength, reliable heat resistance and good voltage characteristic.
Application: It is suitable for turn-to-turn insulation of coil wires on oil-immersed power transformers and suitable for layer insulation of coils on distribution transformers and other electrical insulating equipment.
Features:
• Thermal class: E (120℃)
• Thickness: 0.13-0.50mm
• Standard width: 1000mm
• Color: brown
• Form: roll, sheet, and strip
• Superiority: Reasonable prices, high quality, prompt delivery, and excellent service.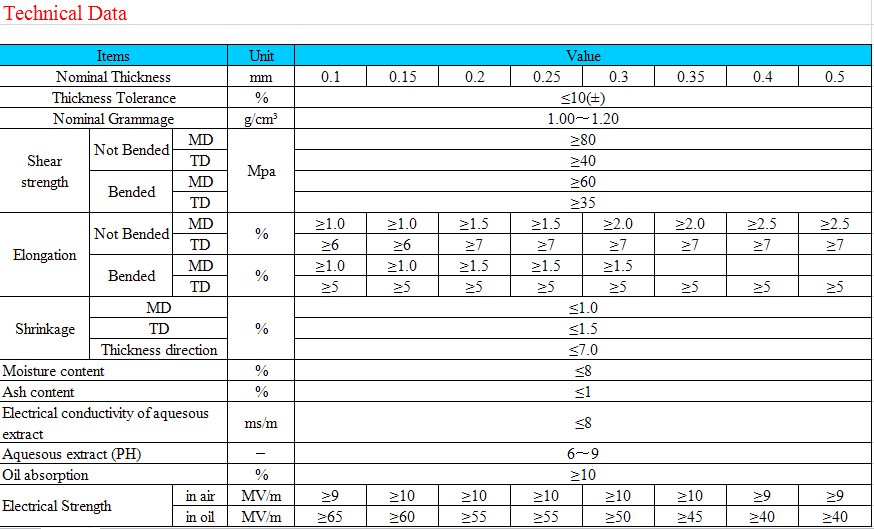 Item No.:
Presspaper is made of sulphate wood pulp and is used mainly as a layer insulating paper in low voltage and high voltage windings of oilimmersed distribution transformers. The lifetime of the transformers is directly related to the condition of insulation paper of the winding.
It is a Class A (105℃)insulation material .
The width we can make from 20mm to 1000mm,thickness from 0.05mm-0.50mm.
| | |
| --- | --- |
| thickness (mm) | (g/㎡) |
| 0.05 | 43 |
| 0.08 | 72 |
| 0.1 | 93 |
| 0.13 | 128 |
| 0.15 | 145 |
| 0.18 | 179 |
| 0.2 | 195 |
| 0.25 | 258 |
| 0.3 | 320 |
| 0.4 | 395 |
| 0.5 | 495 |